In-House Production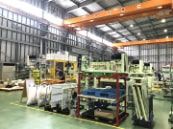 We design and assemble whole machines in our own factory. It let us manufacture the machines with most ideal design; in addition, provide the high-quality assurance and long-term follow-up service to our customers.
The Head Unit
In order to form high quality parison, we use our own flow passage designing software to design the flow passage inside the Head unit. We execute the flow analysis of the melt plastic resin flow by utilizing data of the products, machine specification, production condition, and the fluid flow characteristic of raw materials. Then, we design the flow passage so that machines are able to extrude parison that is not thermally deteriorating nor layer turbulence, and equal wall thickness. When making the Head unit, we use latest model equipment used by skilled operators to fabricate high quality / accurate parts for the Head unit. We do the quality control and assembly with strict numerical standard, especially for the flow passage surface roughness where the vital part to form high quality parison, and the concentricity of each mandrel.
This standard is also applied when making the Head unit for multilayer molding machines.
High Shares of The Domestic Market and Great Track Record in Manufacturing Electric Blow Molding Machines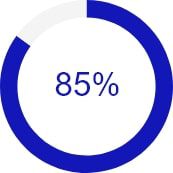 We have been achieved almost 85% shares in domestic blow molding machine market by continuous patronage from our customers over the years. Since 1994, the year when we successfully developed the all-electric blow molding machine first in the world, we have delivered more than 1200 machines (1000 machines domestically and 200 machines internationally). Base on the built-up knowledge and data in long experience, we devote ourselves to improve in the production efficiency and problem-solving.
Analytic Technology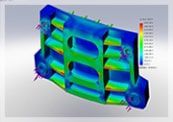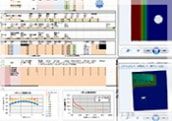 We utilize various analysis methods when designing machines. We have 3 main analysis: the flow analysis for designing the screws and Heads, structure analysis for reducing machine weights, and the cooling performance analysis for shorten molding time.
Machine Controlling System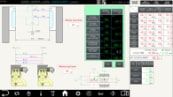 We design machines with 2 major concepts: 1. the machine is capable to continuous molding in high-speed with stability, 2. the machine design is to be user-friendly. Our machines are equipped with fixed molding cycle system as a standard specification, it lets machines to mold products stably in good form. Our machine is also provided with the large-size touch screen for operation panel so that it is easy for the machine operators to use.
JSW Group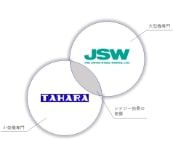 Since 2006, we have become a group company of The Japan Steel Works, Ltd (JSW), a company listed with first section of the Tokyo Stock Exchange. JSW, excellent in manufacturing machines for large-size plastic containers, and we as TAHARA, good at manufacturing machines for small-size plastic bottles, cooperate with each other to create new technologies in blow molding skills.