Please contact us if you are considering automation of production line, self-manufacturing or improvement of production process. We suggest with the best plan in accordance with the request. Below cases are some of the examples that our customers actually adopted our propositions.
Case1:Self-manufacturing of sanitizing liquid bottles
Background of the customer:​
A Japanese company that sells sanitizing liquid bottles had been buying empty bottles from overseas because of cheaper price compared to buying bottles inside of Japan.

Problem of the customer:​
Large number of imported bottles had pinholes that cause liquid leakage when filling.
Since there were many defects, yield was low, which made the manufacturer considering to self-manufacturing bottles instead of buying them from outside.

Molded Product:​
500mL bottles for sanitizing liquid

Proposal from Tahara:​
Since it was the first time for the customer to install extrusion blow molding machine, we firstly invited them to visit our factory and explained with the basic mechanism of extrusion blow molding machine. We suggested with all automatic post-production lines including product conveyor and leak tester to inspect pinholes on the bottles to improve quality of the bottles. We discussed everything with the customer from selecting machine specification, post-production line to mold, and proceeded the entire project very closely.
Before the machine is installed in the customer's plant, we invited the machine operators to our factory and take a blow molding training course for one week to understand basic operation of the machine.

Outcome:​
Blow molding machines and each post-production line were delivered to the customer's factory without any problems and started producing bottles very smoothly. Since our blow molding machine can produce high quality bottles stably, there are almost no defect bottles that has pinhole and yield has improved. Production efficiency was also improved because all produced bottles are inspected by leak tester and pinhole defects are removed from post-production line before filling process.

Comments from Tahara staff:​
We were complimented by the customer for providing the solution to produce high quality bottles stably. As the appearance of the bottles also improved, we are sure that more consumers will be attracted and pick up the products more than before.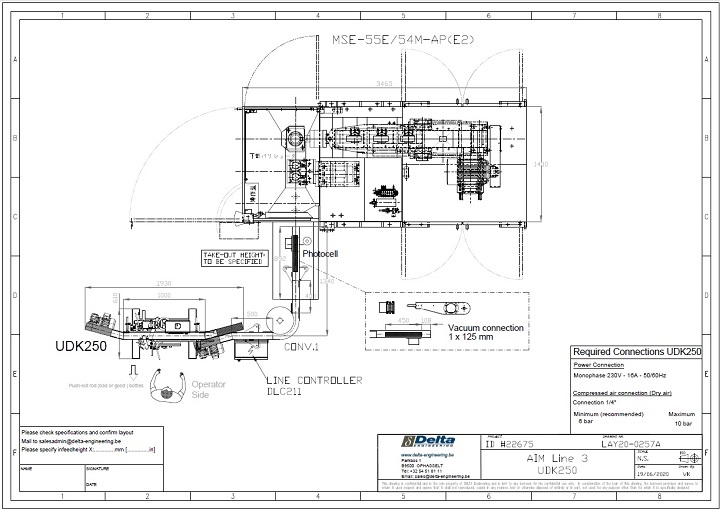 Case2:Replacement of a Chinese 5-layer blow molding machine to Tahara's 6-layer machine
Background of the customer:​
This Chinese customer had been supplying multi-layer seasoning bottles to both Japanese and Chinese food company by using 5-layer blow molding machine from a Chinese machine manufacturer.

Problem of the customer:​
The customer was advised by the Japanese food company that the multi-layer bottle quality needs to be improved. Specific problems were black spots on the bottles and barrier function was insufficient because of uneven thickness of EVOH layer. Since Chinese blow molding machine could not solve these problems, the customer started considering replacing the machine. ​

Molded Product:​
6 layers seasoning bottles with 4 kind of resin ​

Proposal from Tahara:​
We invited the customer to our factory to compare the technology of Tahara against German high-end blow molding manufacturer. We explained our advantages that TAHARA designs and manufactures Co-Extrusion machine to specifically meet the demand of the customer, while German manufacturer buys the Co-extrusion die-head from outside.
After carefully comparing the difference of both manufacturers, the customer chose TAHARA machine in the end as TAHARA has been supplying many Co-extrusion machines to major Japanese food companies.

Outcome:​
After our machine was installed at their factory, the black spot problem on the bottle and barrier function problem due to uneven thickness of EVOH layer were solved. The customer has been receiving more and more orders steadily.

Comment from Tahara staff:​
This customer has been purchasing Tahara machines constantly since their first installation, because the defect ratio of the bottles has been dramatically decreased. We are glad that the customer was praised as the best bottle provider from the Japanese food company a few years ago after they started using our machine.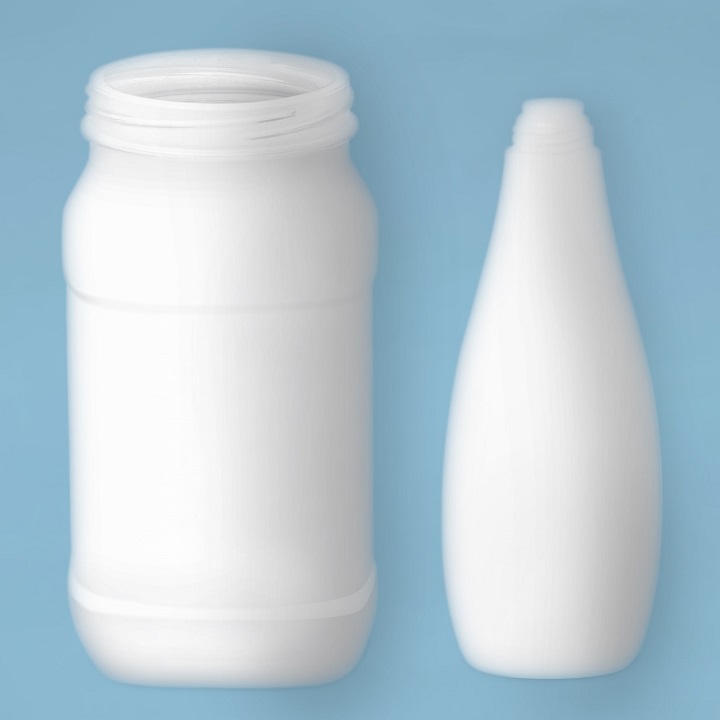 Case3:Turn-key project
​Background of the customer:​
A Japanese detergent brand had been outsourcing the bottle productions to several bottle producers in Japan, but they were looking for a cost reduction plan as transportation cost of the bottles has been increasing.

Problem of the customer:​
Since it was the first time for the customer to consider self-manufacturing of the bottles, they did not have clear image of what are needed for blow molding. It took us great effort to discuss and determine the installation plan.

Molded Product:​
5L bottle with handle

Proposal from Tahara:​
At first, we carefully explained the advantage/disadvantage of blow molding bottles to the customer. For this turn-key project, we proposed not only the blow molding machine and the molds, but also upstream equipment such as chiller, compressor and air tank, downstream equipment such as product conveyor, leak tester, weight checker and material grinder. By installing all of these equipment from the beginning, minimal labors for operation are required. We also suggested the most compact layout that fits in their factory.

Outcome:​ ​
Since our blow molding machine reduces uneven wall thickness of the bottles and has high repeatability of the movement, stable production is possible without having a skilled machine operator. Also bottle inspection by the leak tester and weight checker surely saves labor cost every day.

Comment from Tahara staff:​
We backed up the customer from choosing machine type to installation of all equipment, which resulted to the great trust of each other. For example, we submitted detail data requested by the customer, such as noise and vibration data of the machine, for the construction of their new factory. Even after installation of the machines, our technical engineers advised and solved the problems that the customer couldn't produce quality bottles by changing resin and mold. Please feel free to contact us if you have any trouble, we will suggest with our best solution through our abundant experience.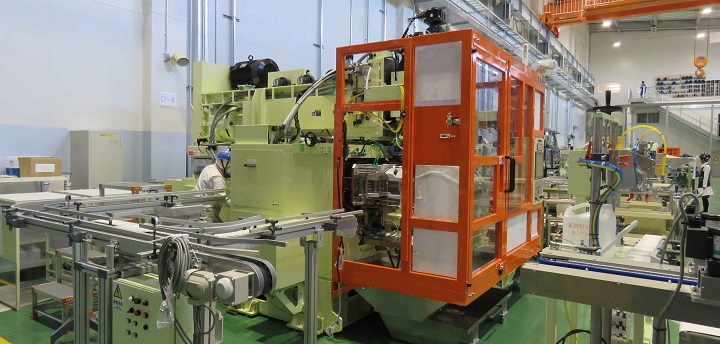 Case4:Installation of In-mold label
Background:​
A Japanese major oil brand was considering to expand their market of high-end engine oil in the South East Asia where motorcycle is a main transportation. (FYI: Engine oil bottles are made with metal can in Japan while they are mostly plastic in almost all over the world.)

Problem of the customer:​
They had difficulty with the decline of brand image and compliant from the customers, because imitation products with very poor quality stalked in the market by filling fake oils into disposed empty bottles. ​

Molded Product:​
1L engine oil bottle ​

Proposal from Tahara:​
Collaborating with a label maker, we suggested using in-mold label instead tack label by using our In-mold label inserter. In-mold label is adhered to bottle rigidly by attaching label to the inside wall of the mold when making the bottles. We provided our extrusion blow molding machine and in-mold label insert equipment in sets to the customer. ​
In addition, the oil maker made a part of the label peelable by special process and printed coupon on the back side of the pealed off label. By creating a system that "If you bring a certain number of coupons, you can exchange a new genuine engine oil.", used bottle is thrown away with the coupon peeled off. That is how the oil maker prevented illegal re-sell that was conducted by picking up used genuine bottle and refilling poor quality oil.

Outcome:​
Since imitation bottles filled with poor quality oil had dramatically decreased, brand image of the Japanese oil maker has been enhanced. It contributed to expand sales of both motorcycle and engine oil.

Comment from Tahara staff:​
Thanks to this project, our sales of blow molding machine and In-mold label inserter in sets have been increased. Other than oil bottles, in-mold label is also used widely in both detergent and shampoo bottles.