We can also offer auxiliary equipment for our machine. Please feel free to ask for automation and labor-saving of post-production line.
Installation example [plan view]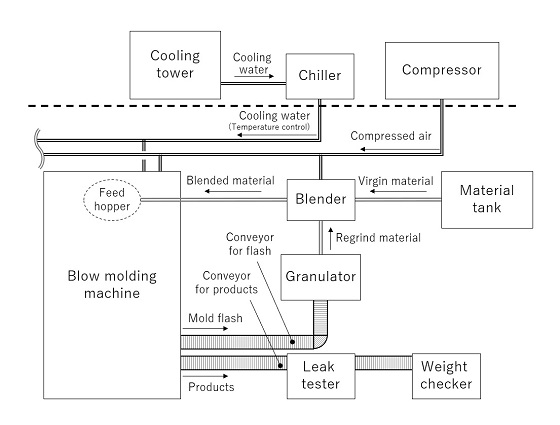 Mold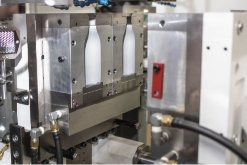 We accept an order of mold based on the client's drawing. We adjust the mold and carry out an inspection test with blow molding machine.
In mold-Label inserter
Label and bottle rigidly stick together by attaching label inside the wall of mold when mold opens and then adhering label to bottle by blowing after mold close.
Because label carrier and attaching arm are driven by servo motor, which makes high assured repeatability, open/close position at any point and speed are easy to set.
Product conveyor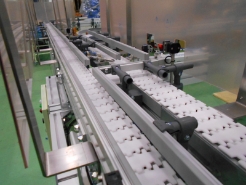 It transfers produced bottles to post-production line after taking out from the molding machine.
It makes smooth transportation by linking with the molding machine and avoiding crashing of taken out bottles and conveyed bottles.
Cutting machine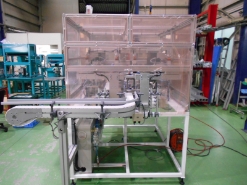 Needle blown bottle like wide mouth jar is made by cutting mouth after taking out of the molding machine. We offer various kind of cutting machine according to the shape of bottle.
Leak tester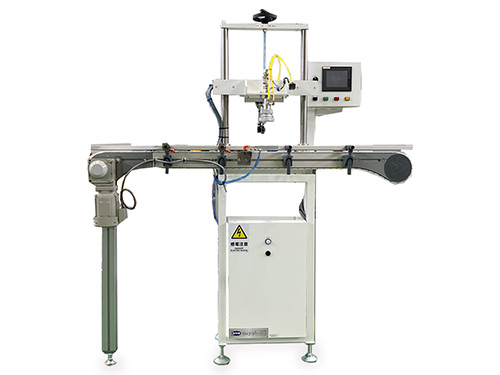 Pinholes are inspected by sending the air inside produced bottle and measuring pressure. A bottle with a pinhole will be rejected automatically.
Weight checker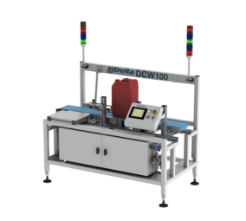 It weighs produced bottle quickly with high accuracy. We offer variety of weight checkers which can measure wide range of bottle.
Bagger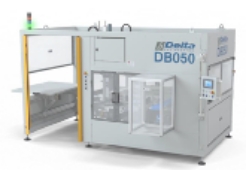 It packs produced bottles that are sent on conveyor with shrink-wrap automatically. Since this process is not interfered by man, it is hygienic solution.
Case packer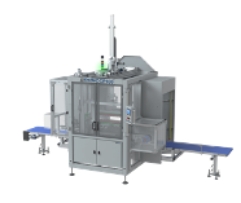 It holds produced bottles and packs into tray or box automatically.
Robot
It contributes to labor-saving and less-space by replacing man with robot to do the work done by man before, like taking out and transferring produced bottle to inspection equipment, removing flashes outside of the molding machine and bagging.
Flash conveyor・Steep angle conveyor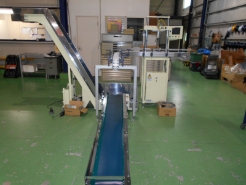 It receives fallen flashes inside the molding machine and transfer to a grinding machine.
Grinding machine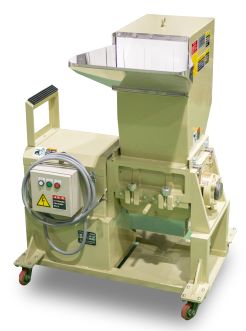 It grinds flashes during molding for re-use. We offer flash grinding machine in accordance with required processing capacity and resin.
Pellet blender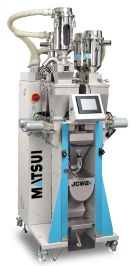 It blends pellets at set mixing ratio and amount automatically when blending more than 2 kind of pellets. Uniformizing blended pellets improves yield. It can be combined with resin feeder if customer would like to.
Resin feeder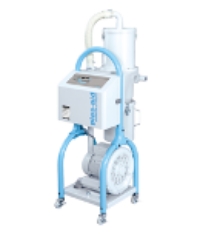 It automatically feeds pellet from material tank or bag to hopper of our molding machine. We offer material tank and dryer if customer would like to.
Chilling machine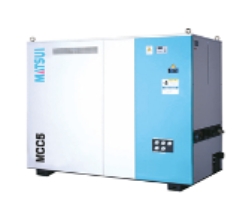 Cooling water is used in feed box, parison wall thickness controller, mold and blow pin of our blow molding machine. We offer chilling machine which provides cooling water.